What started like a peaceful, organised and legal protest ended up in violence and looting of shops at Cosmo City on Thursday the 21st of February.
The march was planned to start from Itsoseng Skills Centre to Cosmo City Multi-Purpose Centre, to hand over a memorandum. The protestors marched from Itsoseng Skills Centre as planned, escorted by Johannesburg Metro Police.
It all went sour when the South African Police Services stopped protestors from entering Cosmo City Multi-Purpose Centre. This was when the protestors' frustrations began to worsen. Protestors stood outside the multi-purpose centre, singing struggle songs waiting patiently for the memorandum to be handed over. After singing for hours without anyone attending to them, they began to be restless. Violence broke out when young people who were not even amongst the protestors started throwing stones at the police. A few stones were tolerated by the police until SAPS ordered that all the residents protesting should join the March and form one group.
Some residents refused and more stones were thrown at the police. That was when the police scattered the crowd by firing rubber bullets and the protestors became even more violent. Itsoseng resident Mavis Mutavhatsindi said she was very disappointed that the march ended up not serving its' purpose.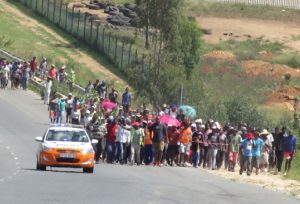 "We invaded RDP houses that have been there for 10 years without anyone staying in them. We broke doors and took over the houses. Our problem now is that we need electricity and title deeds" she said. Cosmo City Ward 100 Councillor Mapula Mosito told Noweto News that she supports her community for exercising their right to protest. She urged the community to exercise their rights in a constitutional manner.
When she was asked about the RDP houses invasion she said Housing Department can comment on RDP house allocation, but as a public representative she does not condone the house invasion because there are people who have applied for RDPs in 1996 and they are still in shacks, waiting to be given RDP houses.
She said people have to understand that there is a process put in place for people to be allocated to houses. She further said invading houses is not the correct way of doing things. Councillor Masito said she supports the notion that informal settlement should be formalised and basic services like water and electricity should be provided for residents.