A room in Zandspruit extension 16 was consumed by fire to ashes on Tuesday afternoon. When the incident took place neighbours and house owners quickly ran into the burning house and try to take some of the furniture out of the house.
The neighbours who witnessed the incident told Noweto News that they did not even attempt to put out the fire, because of water shortage in their area. Gloria Ngwenya is one of the first neighbours to help with the removal of furniture from the burning room. She says she was cleaning her shack when she heard people shouting "a house is burning" and that was when she ran to assist.
Ngwenya told Noweto News that the cause of the fire is unknown. When asked about the possibility of illegal electricity connections (Izinyoka) to be the cause, she said "It is not possible because the burnt room is not wired. Even if it was wired the electric wires in our neighbourhood does not have electric current."
The owner of the house was watching in tears as her ward Councillor Victor Mafinya looked around the burnt room. Mashele says her biggest worry is the burnt clothes and school uniforms of her children, who were at school when the incident took place. I appeal to the public to help us with everything they can.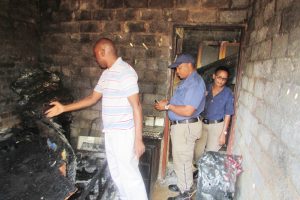 Ward Councillor Victor Mafinya says he was called all the way from Cosmo City where he was busy with his work to come and attend the matter. He says he went to the nearest fire station to ask for help which ended in a huge disappointment. He says he was told that Zandspruit fall under the demarcation of Roodeport and nothing could have been done for him. "The fire station that is five minutes from us cannot help our people, we have to wait for the one that is 20 minutes away. Imagine what can happen in 20 minutes." He said. He says this information was new to him ever since he began his term as a ward councillor.
The Roodeport fire emergency was called to deal with the fire, which was a success because the fire did not escalate to other shacks. The burnt room is made up of bricks which made it easy for the fire to be contained. According to the law it is still illegal for informal settlement dwellers to build permanent structures.